Bank of The West Routing Number

121100782.
For checking accounts, the routing number is 121100782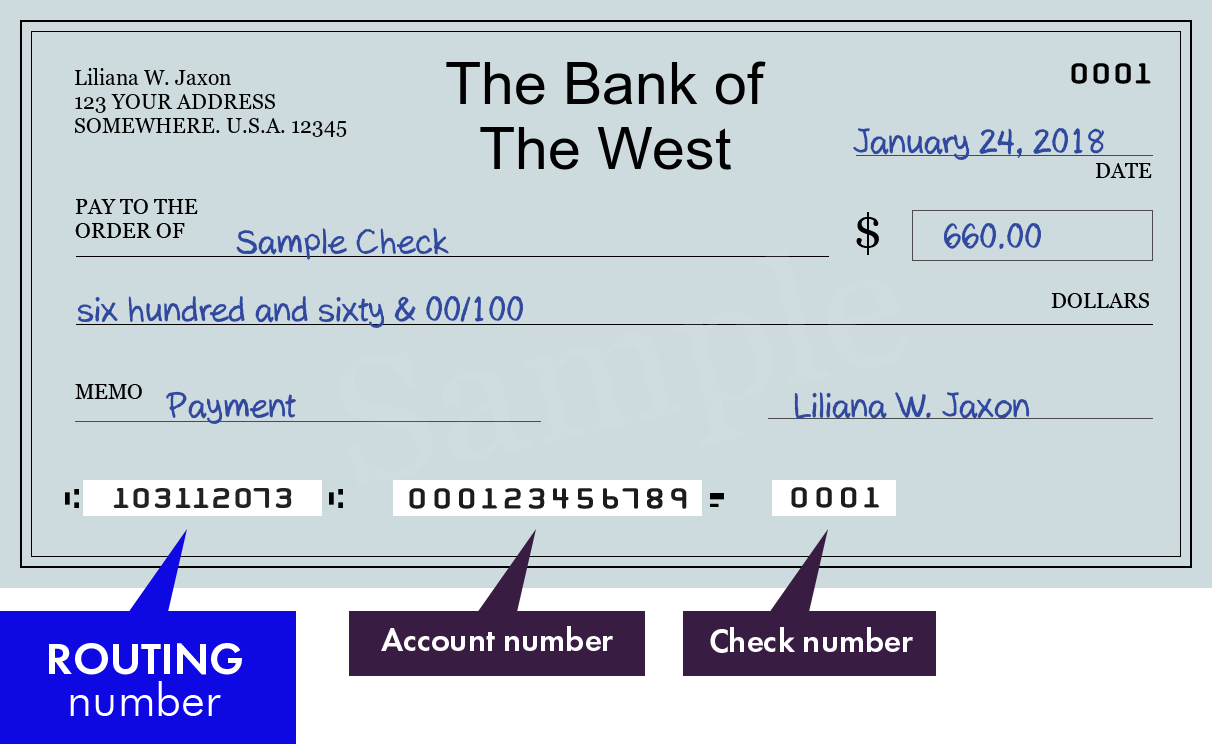 How do I find my routing number Bank of the West?
You can also get it through online banking or your mobile app. To find your routing number by Online Banking, click Services & Support, then under Help, click Routing Number. On your mobile phone app, tap on the account, then tap the gear icon in the top right corner of the app.
Bank of the West Phone Number
If you need to contact us, we're here to help, call customer service at 800-488-2265 or TTY 800-659-5495. We're available by phone Monday to Friday at 4 am-10 pm PST, and Saturday, Sunday, and most holidays 5 are-10 pm PST. Our call wait times are longer than usual at this time. Thank you for your patience.
| No. | Routing Number  | Address  | City  | State  |
| --- | --- | --- | --- | --- |
| 1 | 073902494 | P.O. BOX 87003 | LOS ANGELES | CALIFORNIA |
| 2 | 091200961 | P.O. BOX 87003 | LOS ANGELES | CALIFORNIA |
| 3 | 091300036 | P.O. BOX 87003 | LOS ANGELES | CALIFORNIA |
| 4 | 091400680 | P.O. BOX 87003 | LOS ANGELES | CALIFORNIA |
| 5 | 091803290 | P.O. BOX 87003 | LOS ANGELES | CALIFORNIA |
| 6 | 104112409 | P.O. BOX 87003 | LOS ANGELES | CALIFORNIA |
| 7 | 107000152 | PO BOX 87003 | LOS ANGELES | CALIFORNIA |
| 8 | 107002147 | PO BOX 87003 | LOS ANGELES | CALIFORNIA |
| 9 | 107006813 | PO BOX 87003 | LOS ANGELES | CALIFORNIA |
| 10 | 111305856 | 108 W NORTHWEST HWY | GRAPEVINE | TEXAS |
| 11 | 111916724 | 108 WEST NW HWY | GRAPEVINE | TEXAS |
| 12 | 112025342 | 500 N MESA STREET | EL PASO | TEXAS |
| 13 | 121100782 | PO BOX 87003 | LOS ANGELES | CALIFORNIA |
| 14 | 122105647 | P.O. BOX 87003 | LOS ANGELES | CALIFORNIA |
| 15 | 122242843 | PO BOX 87003 | LOS ANGELES | CALIFORNIA |
| 16 | 124002735 | PO BOX 87003 | LOS ANGELES | CALIFORNIA |
| 17 | 301171081 | P.O. BOX 87003 | LOS ANGELES | CALIFORNIA |
| 18 | 303188111 | P.O. BOX 87003 | LOS ANGELES | CALIFORNIA |
| | | | | |
| --- | --- | --- | --- | --- |
| Routing Number | Process FedACH | Process Fedwire | Location | Registered Name |
| 111916724 | Y | Y | Grapevine, TX | Bank Of The West |
| 121100782 | Y | Y | Los Angeles, CA | Bank Of The West |
| 091901095 | Y | N | San Francisco, CA | Bank Of The West (ca) |
| 107000152 | Y | N | Los Angeles, CA | Bank Of The West |
| 111305856 | Y | N | Grapevine, TX | Bank Of The West |
| 112025342 | Y | N | El Paso, TX | Bank Of The West |